A Salute to Uncle Phat

Lee V.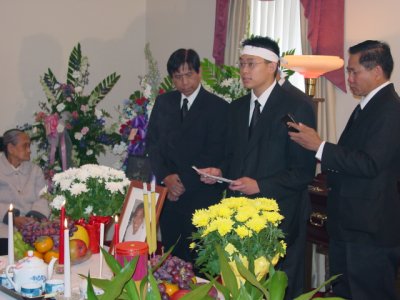 Lee V., nephew of Dr. Vuong Ngoc Phat
May 24, 2003 Beltsville, Maryland, USA
It is an honor and a privilege to be entrusted on behalf of so many friends and relatives of my beloved uncle, Dr. Vuong Ngoc Phat who passed away on Wednesday, May 14, 2003 from cancer.
It is not enough to say that Bac Phat will be greatly missed; his work, his talent, his knowledge, his very presence enriched the true values of life that radiate through all of us.
With his departure, we are now left with some vivid and diverse memories reflecting a man: dedicated, knowledgeable, and always ready to share his skills with others; of a loyal person who was both kind and thoughtful, and whose deeds were many but always silent; of a dear uncle whose infectious enthusiasm engulfed us all, even when we could not quite keep up with them; of a man who harbored no resentment; of a man who, as his life shortened dramatically, showed amazing courage while bravely facing his future. Those memories, dedicated to his family, friends and the profession he had dedicated his entire life to, will always warm our hearts and prove gentle solace for this loss.
My uncle had a thirst for knowledge and was always open to new ideas. He had a passion for science with the widest public and for the dissemination of his scientific expertise to the next generation; he was always generous with his time and his considerable talents. He was a dedicated and knowledgeable Parasitologist, held in high esteem by a wide and international circle of his peers as attested by the overreaching response to his untimely departure.
I do truly admit that I miss many things about my uncle. The things about him that I really admired and thought from which I would have a life time to learn. Iíll miss seeing him interact with people and share his life with them. I donít know how he managed to remember so many names and faces and life-stories, but he did. Bac Phat loved people. He loved talking to people and listening to them.
I would like to thank you all for the overwhelming letters of love and affection that we have received on behalf of friends, family and colleagues from around the globe. This wonderful outpouring of empathy is a rich testament to the broad spectrum of lives that Bac Phat touched. It is also incredible how technology has evolved and my uncle would love to see these new advances continue to cultivate. With e-mail and a website in hand, the memory of Bac Phat will be available with just one click away.
Of all the circles within which he traveled, that encompassing his family was by far the most important. He was devoted to his beloved wife, Sarra Vuong; four daughters: Tam, Lan, Asma, and Hella; his mother; his grand-children; two sons-in-law, his brothers, sisters, nephews, nieces, cousins, in-laws, colleagues, employees, students, and friends who will miss him dearly.
He was not only a friend, but a true family member that touches the heart of everyone.
Bac Phat knew he had achieved important things and had enviable balance in his life. He was at peace with himself and others. He felt fulfilled. He supported us in adversity and proved our champion against all odds. We will always remember him. We learned how much we loved him and we learned ways of expressing that love. He enriched our lives and we thank God for that.
Allow me to read the following poem:

It's been awhile since you've been gone,
And families must carry on
As friends unite in asking why
Sometimes we have to say goodbye.

True friends are rare; when one departs
It leaves a mark upon our hearts
That's vast and deep and tall and wide
And lasts beyond the tears we've cried.

Surrounding us with love, it seems,
The remnants of your living dreams
Are standing proud in tribute to
These treasured memories of you.

In all you did, in all you said,
You walked with us a step ahead,
Arriving first to pave the way.
Thank God, we'll meet again someday!
Bac Phat was not an ordinary person. He was successful, successful at achieving what was really important to him -- sharing his love with his wife, family, friends and the world as a whole. Despite the fact that Bac Phat never achieved to live to the pinnacle of his age, there is no one who could have made me prouder than to have him called as "my uncle.Ē
Bac Phat, we will miss you but console ourselves with the fact that your spirit lives on.
We salute you, not with guns but with our hearts.